Bobi and I were finally (9 years together) married on Saturday in the presence of our family and friends. It was a fun (though very tiring) day. The weather was even nice enough to clear up for the photos and the outdoor ceremony (which was lucky given the amount of rain we've had in the last week). I'll be sure to post a few pictures when we get them from the photographer (could be a while).
Things are finally starting to settle down again, and I'm looking forward to married life. I certainly couldn't ask for a better person to share it with.
Here's a picture of the big honking man-ring I'm now lugging around.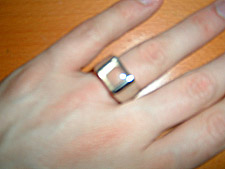 Next post: glic update.