Halloween has come and gone again, so it's time to tally the votes and declare a winner. For the second time in 4 years, Wes and Kyle emerged as winners, with the "Girl Next Door" winning with 89 votes (35%).
"The interns" Nick and Eddie pulled on your 80's nostalgia heart strings, bringing the Deceptikin in to 2nd place with 65 votes (25%). The Teenage Mutant Ninja Pumpkin by Ryan and Lanny, try as it might, could not overtake the transformers, and came in to a close 3rd place with 61 votes (24%). In last place, Michael and Sebastian's Mac o'Lantern failed to invoke the fanboy support it expected with 39 votes (15%). It probably did better than a Windows pumpkin would have done in any case.
So that's it. Back to labor and toil for the gskinner boys. To wrap up this year's festivities, here is the aftermath of the desecrated pumpkins. This year we left them outside to avoid the pumpkin smell and fruit flies, so assumedly they held up longer than last year.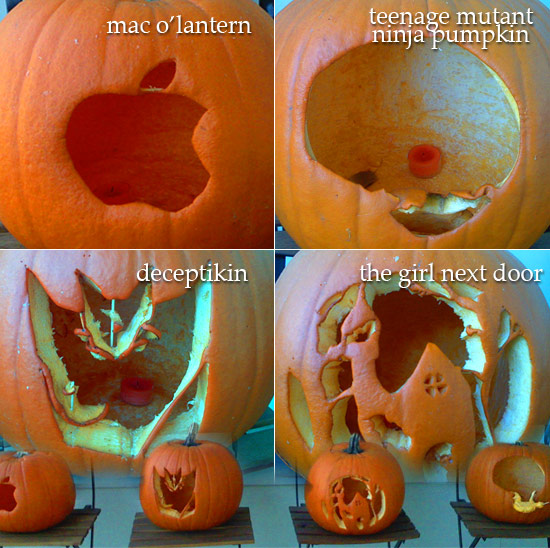 Thanks to all who voted!