After a week of voting, the results of the Great Pumpkin Showdown 2006 are in! As always, we pitted teams of two, based on company seniority (Team 1 is most senior, Team 4 is comprised of "the new guys") against one another in a battle of epic proportions.
PumpkInvaders, by Team 1 took the easy win with 38% of the votes (151) – go team!
Jack Skellington, by Team 4, and Frank'n'Friends by last year's winner Team 3 took a very tight 2nd and 3rd place with 23% (91 votes) and 21% (86 votes) respectively.
Team 2's Grumpkin started strong, but lost a lot of ground in the final days of voting and came in a disappointing 4th with 16% of the votes (66 votes).

As dictated by our rather warped sense of tradition, we also left the pumpkins to decompose into a putrid mess. The landslide winner in this competition was Frank'n'Friends which dissolved into a moldy liquid protoplasm that dripped all over the floor and had to be shoveled into the garbage bag – it had the disturbing consistency of overcooked pudding. Ick.
Here's a few shots of the GPSD'06 aftermath, for your viewing pleasure.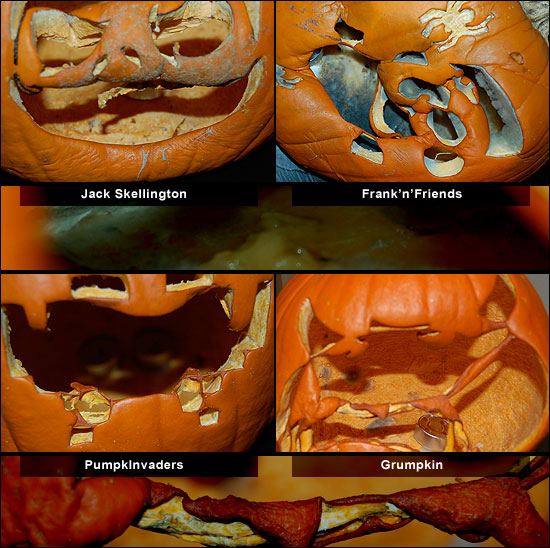 You can see and vote on the fresh and frightening Jack o Lanterns here. Thanks to everyone who voted. Until next year… Happy Hallowe'en!