We were recently approached by Adobe to build a simple set of demos for the Flash Player 10 beta. The concept was to deliver a set of very simple, feature specific demos and descriptions tied together by a consistent theme. We thought it would be fun to key the demos off of the Astro code name, and develop a fake product box with a retro-space feel.
The end result was released on Adobe labs today. You can check it out here:
http://labs.adobe.com/technologies/flashplayer10/demos/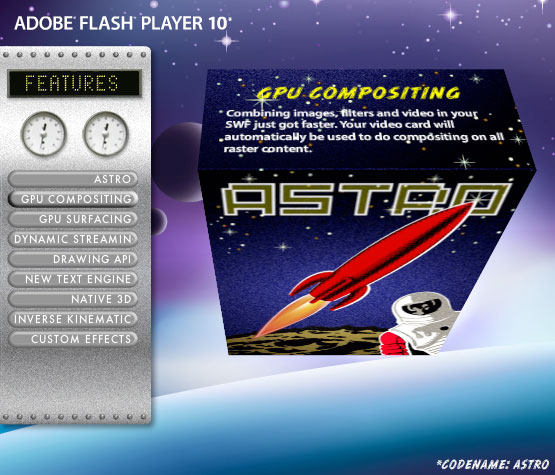 Building demos for a beta player and against a changing API is definitely a challenge, and occasionally frustrating, but we had a great time working on this project. The player team was very supportive and fun to work with. We're currently ironing out an issue with crossdomain security that is causing the navigation to lock up on a couple of demos (*blush*), but otherwise things went pretty smoothly.
I was also honoured to be quoted in the official press releases for the player 10 beta, which you can see on MarketWire and BusinessWire, as well as a couple of articles at eWeek and InfoWorld (last paragraph).
I'm very excited about the features of the new player. The great new graphical features like 3D and Pixel Bender are going to lead to some really stunning content, and hopefully enable the development of some incredibly powerful libraries. Likewise, the new text engine opens the doors for developers to create new custom features, and will also make localization much simpler. Lastly, who can forget the GPU rendering and compositing (we'll need those free CPU cycles for 3D and PixelBender), and the potential new language features (see the ECMAScript specs for ideas on this one, or Colin Moock's great FitC session notes on the topic).