This is an older experiment, but I think it's still fairly interesting, and I wanted to post it to the blog so that it has a home on my site. This system demonstrates converting user gestures into machine readable information – in this case, it simulates Palm graffiti recognition. Click and drag to write graffiti characters on the input pad, and the system will convert them into characters on screen. Supports almost the full range of graffiti inputs including letters, numbers, uppercase, backspace and punctuation.
Here's a graffiti guide to help you out – the dot shows the starting point of the stroke. It also supports caps shift (upwards stroke), caps lock (two upwards strokes), and punctuation shift (single tap).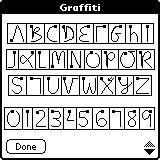 This algorithm was also put to use by Random Media on the Shinobi website. For a full explanation of the algorithm, you can click here.
The cool thing is that this is all based on a very generic pattern recognition engine that I wrote, which can be used to identify patterns in any kind of linear 2 axis data.