gStartPage is an extension for the gProject Panel. It gives you quick access to your gProjects and lets you select a project without having to open a blank document first. Clicking a gProject selects the project in the gProject panel and opens the anchor FLA in flash. If the panel is not open, the anchor file will still open, and the project will be selected when you open the panel manually.

The main application of this extension is that flash provides no way of opening a panel if there isn't an open document. This becomes pretty annoying if you just want to just open your project and get started. We originally started building this for our in-house use, but after a gProject user requested such an update, we decided to add in the default behaviors, and release it to everyone 🙂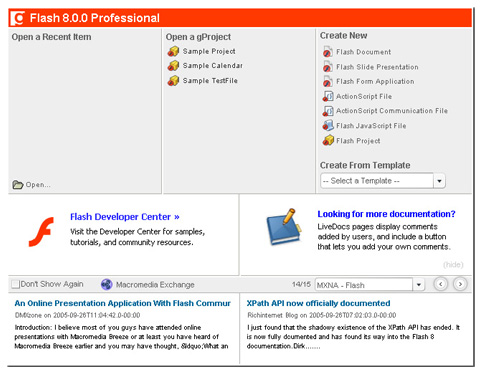 The gStartPage does everything that the original Start Page does, but with a few extra features. As you can see we added the "open a gProject" column to the start page, as well as an RSS aggregator to the bottom. We had originally decided to cut the height and whitespace of the Start Page down, but found that on mac computers the Start Page opens in a panel with a preset size, so we were left with a bunch of white space at the bottom. Rather than space it out, we decided to utilize the space.
So who needs the gStartPage?
I would say that if you have gProject this is a must. If you don't, then you may want it just for the aggregator, which is customizable if you poke around your configuration folder 😉 gStartPage is available for Flash 7.2 and 8.
For those interested in this flash extension you can download it here(right click save as)
ciao
UPDATE
Per the comments below, Flash 7 on the Mac shows the recent files as full paths. Originally, we thought this might be due to a lack of testing on our part, however I have confirmed that the JSFL array "fl.mruRecentFileList" returns paths differently in Flash 8 than it did for Flash 7 (Mac only) — It seems that in Flash 8, the paths are equivalent to the PC version, which returns a URI (path/to/file), whereas Flash 7 uses the Mac path (path:to:file).
We will fix this and post and update. And thanks guy for directing our attention to the aggregator issue. It should be fixed as well.