The blog has been pretty quiet lately. Things have been really busy with conferences and workshops in addition to normal work. I've also been working hard on a personal project called gallery incomplet, which I'm launching today at incomplet.org. [Note: moved to incomplet.gskinner.com]
incomplet.org is a timeline of experimental Flash pieces that I have played with and never really completed. It currently houses work from 2004-2005, but I plan to include pieces all the way back to 1999 over the next few months. The site was designed with usability in mind but it wasn't a driving concern, I was more interested in creating a simple, small (35kb), attractive shell that didn't distract from the experiments which are the obvious focus. Likewise, there are few compromises for older systems – the site requires a fast processor, Flash Player 8, and at least a 1024×768 screen.
Just as the experiments are never really complete, the gallery will continue to evolve as I add content, update functionality, and tweak the design. The whole site is really an exercise in passionate procrastination.
Click over to incomplet.org and have a look. I'd love to hear what you think of it. [Note: moved to incomplet.gskinner.com]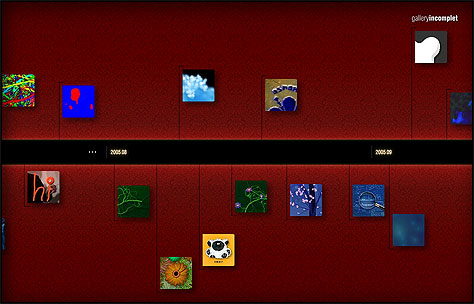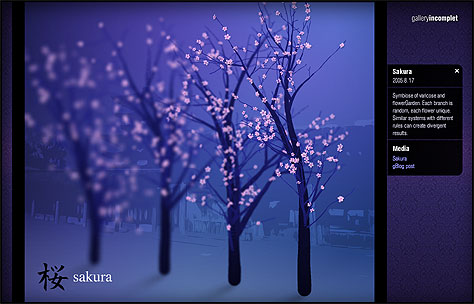 Of interest, the splash screen is designed to quickly test all of the requirements for the site. It tests for javascript and the Flash player version, and utilizes auto-update when needed. It does a rough test for the processor speed, and pulses the ">2ghz" line red if it fails. Stage size is also monitored, and the "1024×768" text pulses red if it is too small to display the site properly. You can resize the browser window and see the indicator show and hide according to the current window size.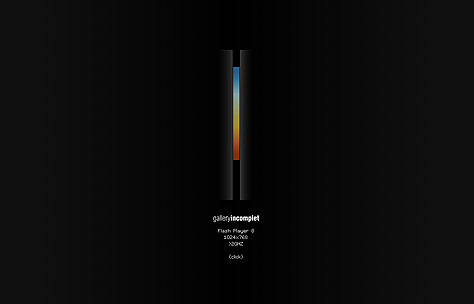 I'll post about some of the solutions/tricks I used while creating this site in the near future.
I'm also going to try to maintain an update log here (mostly for my own records):
2005/12/07: Added "Fluids".
2005/12/09: Added "Clouds / Fog".
2005/12/09: Updates: made gallery "pod" shadows dynamic (based on distance from center), added folded corner indicators for visited items (uses LSO to maintain persistence between visits).
2005/12/11: Added "Transcendence".