Another year, another pumpkin massacre at gskinner.com. Following our tradition of beer-and-candy-fueled jack-o-lantern carving, we broke into 4 teams of two based on seniority, and proceeded to hack up the innocent squash.
The results are actually pretty decent, imho. Not pro quality (the beer doesn't really help), but better than our last couple of years (GPSD2004, GPSD2005). After a couple of hours of carving and smack talking (in about equal proportion), we wound up with FrankenFriends (Frankenstein and some spider pals), Jack Skellington (from the Nightmare Before Christmas), Grumpkin (one angry pumpkin), and PumpkInvaders (Space Invaders meet squash)

As always, we leave it to you, our loyal readers to judge our handiwork. Check them all out in the vote-o-matic below (Flash Player 9 required), and vote for the one you like best. We're a pretty competitive group when it comes to our pumpkins, so be assured that your vote will be appreciated.
Happy Hallowe'en from all of us at gskinner.com!
In case you don't have Flash Player 9, and don't want to install it, here's some images: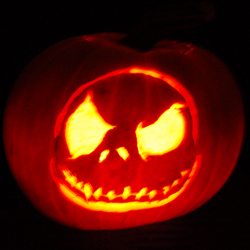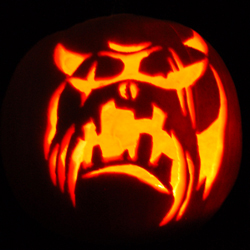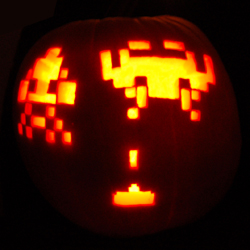 UPDATE: The results are in…