I'm a big fan of ASDoc! I use it to document all of my major library releases (ex. GTween, SPL, Wander, etc).
ASDoc allows you to write simple comments in your AS3 classes, then generate HTML documentation from them. This is great in that it allows developers to maintain source code and documentation simultaneously, and it reduces the overall burden in writing documentation by reading the core API information from the code directly. Unfortunately, the ASDoc tool is command line based, and can be a bit of a pain to work with. There are ant integration tools available, but they don't suit every need or scenario.
That's where ASDocr comes in. Building on the new nativeProcess APIs in AIR 2.0, it provides a simple graphical interface to ASDoc. It walks you through all of the common params ASDoc supports, with help for each of them. You can save configurations for multiple projects, and clone configurations to act as a starting point for new projects.
It only takes a couple of minutes to set up a basic configuration (only 2 settings required) and start generating documentation. ASDocr will display the output from the ASDoc executable, and notify you if an error occurs. You can even use CMD/CTRL-ENTER as a shortcut to run (muscle memory FTW!).
Here are a couple of screen shots showing it in action: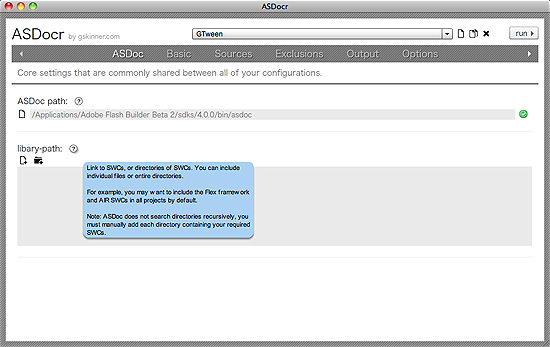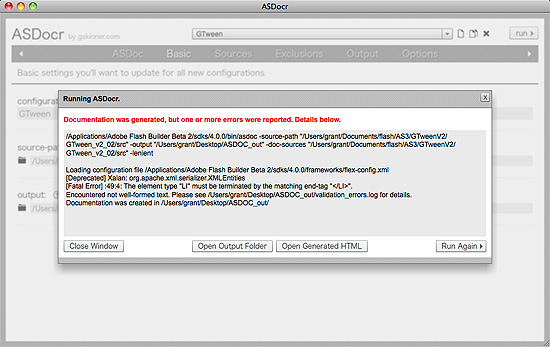 ASDocr is completely free – we built it as an internal tool, then decided to polish it up and give it away to help encourage the use of ASDoc in the ActionScript / Flash community. It also serves as a simple example of what is possible with AIR 2.0.
You can download it here:
You'll need the latest public beta of AIR 2.0 to install it.
It works best with ASDoc v4, which is available with the latest Flex SDK or Flash Builder beta. You can get information on creating ASDoc comments here. We'll probably incorporate a help tab in a future version with an ASDoc tag/comment reference, so everything is in one place.
We'd love to hear any feedback you have on the app. Let us know if you have ideas to improve ASDocr, or if you've found it useful (it motivates us to keep improving it, and releasing new tools for the community).
---
UPDATE: The latest version of ASDocr, with support for the AIR 2 Release Candidate can be downloaded here.