We are hiring! Are you a designer or developer in Edmonton looking for some new challenges? Check out our careers page (or this specific posting) for more info about available positions and how to apply. We would love to hear from you!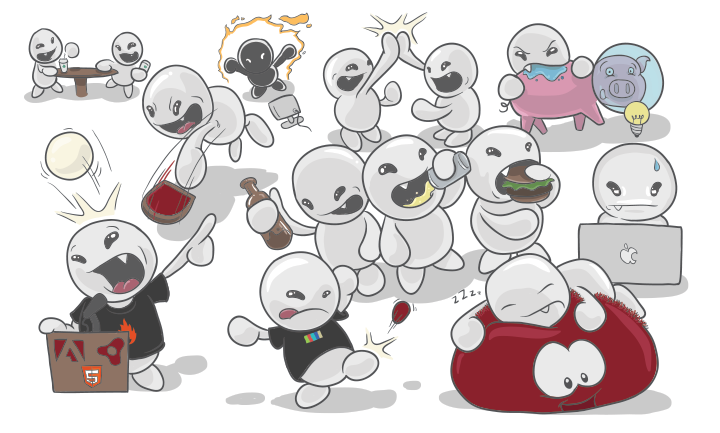 In the meantime, here are some great reasons to work at gskinner, in no particular order:
1. The Coolest Clients & Projects
We're privileged to work with organizations like Atari, Microsoft, Google, BioWare, NFB, and NASCAR (to name a few). We work on really interesting and challenging projects, building apps and games on emerging platforms, cutting-edge web experiences, and interactive installations.
2. We Embrace Change
If you're familiar with our history, you know there was a time when gskinner was primarily a Flash shop. As technology changed, so have we — now building almost entirely on the emerging web stack and native and mobile platforms. Many projects we take on are built on new and untested technology. Rarely do we do the same thing twice. We welcome new technology and thrive on conquering the unknown.
3. We Encourage Range
Beyond changing technology, our projects span across all digital form factors and genres. Whether it be creating for console, desktop, or mobile, building short-lifespan best-of-breed promotional experiences, or robust and scalable applications, or code libraries, components, frameworks, or open source projects, and tooling — we never want to feel too comfortable. This rich breadth of work offers constant engagement and opportunities to learn and grow.
4. Bleeding-Edge Tech
New and unproven tech is our bread and butter. We have great working relationships with browser vendors like Microsoft, Mozilla, and Google, and other companies starting new platforms providing opportunities to prove concepts explore new functionality, and create flagship experiences for announcements. This also positions our team as industry influencers, who provide feedback and recommendations for direction on new products and platforms. It can be stressful, but in turn, invigorating and rewarding.
5. We Train
We don't just throw people into the fire on day one. We're committed to bringing on smart and capable designers and developers and making them better. New hires get trained, and shadow others (sometimes for months) to ensure our consistency and quality goals can be met. We set aside time for professional development, continue to provide training and feedback to everyone and encourage our team to become domain experts who train others.
6. We Hire for the Long Term
This industry can be feast or famine, but your career shouldn't be. We want to ensure team members are a good fit —both technically and socially because we want them for the long haul. When it gets busy, we expect a lot, so we invest heavily in our team. Conversely, we use downtime to improve our team, instead of down-sizing.
7. Opportunities for Experimentation & Growth
More than just training, we want to encourage professional and personal growth. We provide dedicated professional development time, organize creative sprints, encourage code and PhotoShop "tennis", and attend industry events when it makes sense. We involve our whole team in the projects and processes they are interested in. We work to ensure that everyone feels challenged and excited in their role.
8. We Open Source
Our industry would be nowhere without open-source, so we have a history and ongoing commitment to contribute back to it. Many of our tools get polished and released for free (usually MIT licensed), such as RegExr and the popular CreateJS suite. Even our experiments and technical spikes are made available on our blog and GitHub for anyone to use and share however they like. Our open source work helps tens of thousands of developers daily.
9. Benefits & Perks
We value a work-life balance more than just the health benefits, and occasional stat holiday. We work 7 hours/day with little-to-no overtime. We allow remote work and flexible schedules. We try to distribute profit / performance bonuses twice a year, have regular team lunches, and enjoy a nice long Holiday break after our annual Christmas party. Our 124th Street office is pretty hip, with great access to restaurants and transit.
10. Playing for Fun
You don't have to play games to work here, but it helps. Our office has become an array of different game rooms: board and strategy games, foosball, new and old consoles, and even a dedicated VR lab. Some play PC games at their desks at lunch, others play golf, racquetball, and squash in the evenings. Our team loves to play — do you?