I'm such a digital nerd I get really stoked when I show up in print, so I was pretty excited when I saw that I was the top story in the Business section (appropriately, section G) of the Edmonton Journal today under the heading "Edmonton web whiz's new company quickly hailed as industry superstar". It's a very complimentary article about me and the company – though they failed to mention that the AOL project was done with Metaliq, inc. (who are really awesome to work with), and that LucasArts is BLITZ's client, not ours directly. The article was also featured on the front page, with a goofy posed picture of me beside my computer.
You can read the article on the Edmonton Journal online edition. Below are a couple of pics of the print version, for posterity.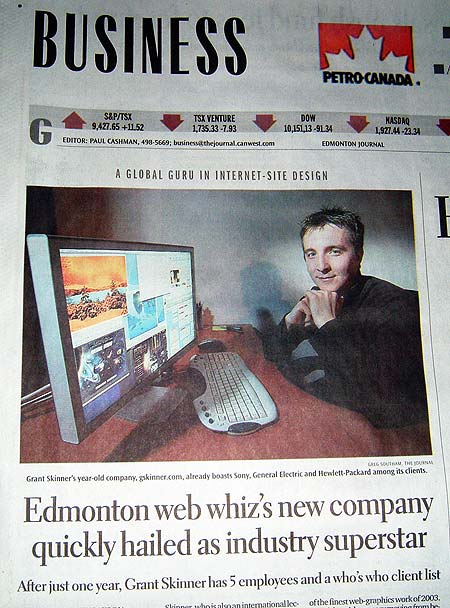 I was also recently quoted by USAToday in an article on mobile Flash, and appeared in an article in a Toronto newspaper (about the FitC awards, I'm guessing). I'm becoming quite a media whore. 😉
[UPDATE May 6 2005] I just found out that I was also quoted in this article on ITBusiness.ca on the Adobe acquisition of Macromedia… "at least it wasn't Microsoft".