Our development team is in a mixed environment of Mac OSX and PCs (mostly WinXP), and one of the challenges we've always faced is time tracking and reporting. There are plenty of decent, low-cost options on either platform, but we were never able to find a single time tracker that worked on both that met our needs. When I started playing with Apollo, I realized that it would be a great technology to build a cross platform time tracking application that did everything we needed. We've been working on it for awhile, and the result is a cool Apollo app we've code named gTimer (the name will change). If you've attended any Adobe keynotes or conference sessions about Apollo you may have seen it demoed.
I think it's somewhat unique, in that it leverages Apollo's potential in a different manner than the one Adobe is promoting. Rather than taking an existing web property, and moving it onto the desktop, we have created a new desktop application that takes advantage of the web, the Flash platform's capabilities for rich UIs, and Apollo's cross-platform support.

gTimer provides some great features, like network synchronization and aggregation, and a unique week view that lets you visualize and edit your week's tasks in a familiar format (we will likely be licensing this view as a component for Flex developers as well). We're also working on a mobile version of the app that allows you to track your time on the road, then synchronize with your desktop app. The final piece in the puzzle is a reporting app that lets small and mid-sized companies generate custom reports on aggregate time usage data, for invoicing, HR, or other analysis.
The whole app was designed entirely in Flash CS3, including the icons, then developed in Flex 2. This is huge for me, because it's the first time I felt completely comfortable doing conceptual design directly in Flash (I normally do concepts in Photoshop and then redraw it in Flash). At least for me, Flash CS3 has finally hit the critical mass of features where design feels quite natural. We were also able to reuse most of our graphics work, and some of our code logic directly for the mobile application.
We'll post more details about it in the future, but in the meantime, here are a few screenshots of the app. This is of course a pre-alpha, so it's got some rough edges, and not all the design is polished off, but it's approaching its final form. You can also visit the placeholder page for it here, to get more information sent to you when it becomes available.
Tree list view. Fairly standard view for most time management applications.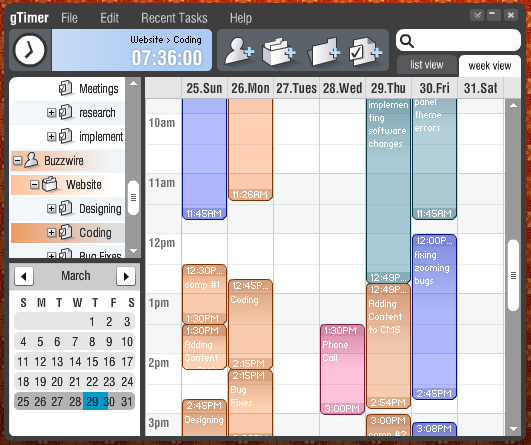 Week view. Visualize and edit your time in a view similar to iCal, Outlook, or google calendar.

Minimized view. You can tuck this view away in a corner, and quickly switch between recent tasks.
Check out the gTimer placeholder page for updates.